Forum Syndicate
Pigeon World Syndicate Bird takes 81st Place in the 2017 Final Race, The Bird is Dia Evans Bloodlines and was Bred and supplied by Tumley Lofts Stud.
R.P.R.A Certificate.
Pigeon World Forum Syndicate take 81st Place in the 2017 R.P.R.A. Final, with a Pigeon Bred and Supplied by Tumley Lofts Stud.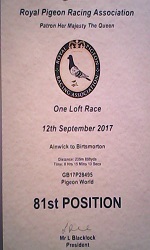 Who is online?
In total there are
35
users online :: 3 Registered, 0 Hidden and 32 Guests :: 2 Bots
David
,
johnnorm2
,
redrog
Most users ever online was
144
on Thu Apr 05, 2012 11:37 am
Bucktons 2017 Calendar
Pigeon World Forum, Fancier of the Year Trophy.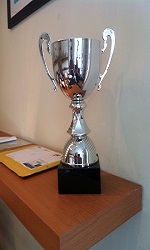 Top posting users this week
Statistics
We have 1134 registered users
The newest registered user is Paul0

Our users have posted a total of 167293 messages in 11081 subjects

Oldstrain/Darren`s Winner of winners. 2012.
From Fed Topper to Master Chef
The N.E.H.U race from Melton Mowbray 21/4/2012 was won by Peel bros of South Shields, they took 1st club 1st fed, also taking 2nd and 4th club and 15 of the 25 birds clocked in the club......well done Peel brothers.
John Gibbs young pied/grizzle winner.
| | |
| --- | --- |
| What is a good pigeon? | |

Author
Message
halcanada
Youngbird





Posts

: 2956


Join date

: 2014-03-11


Age

: 78


Location

: Southern Ontario. Canada.



Subject: What is a good pigeon? Tue Jun 06, 2017 1:14 am

---

Winner every week at a specific distance? Only day bird from the distance races?
Consistent performer every week?
Two examples. Had the only bird (young birds ) from 320 miles on a tough day. She never ever bred me anything worth while in the following years. Had a dark check cock that was so so as a young bird. Same when he was a yearling. 2 year old shipped him twice then kept him back. Useless pigeon, I thought.Then after missing a bunch of races I sent him 600 miles. Won the club by 2 hours. 5th Federation. Hawk got him a few weeks later. Nowadays and especially this year top percentage of performers stay. Rest go. Hard to do when one gets attached to specific pigeons. Young birds usually 10% are any good. I have 40. So keep 4 to 10. Again, hard to do. Again, only reliable criteria I can use is best to best.

blueskylofts
Youngbird





Posts

: 1703


Join date

: 2016-02-28


Age

: 63


Location

: Glos - South West England



Subject: Re: What is a good pigeon? Tue Jun 06, 2017 5:53 am

---

Your posting makes interesting reading Hal, and your question is extremely valid. I suppose, at the end of the day, one has to try all one's pigeons in the race basket and breed from them over several years to get any real idea of what the bird is like. I have heard stories of fanciers having pigeons that couldn't find their way out of a paper bag, or even do 1000 yards a minute, but have bred them some really super pigeons.

Now I don't know if this is true because I have never experienced it myself, nor have I ever met anybody with these claims, but what does not seem logical to me is, if a pigeon is rubbish at racing, how does it ever get kept to breed from?

Logically, only a fool would breed from birds he thought were rubbish but - hey- what do I know!

Phil

David
Oldbird





Posts

: 31932


Join date

: 2009-03-18


Location

: Leeds



Subject: Re: What is a good pigeon? Tue Jun 06, 2017 1:41 pm

---

I agree with hal, most pigeons are no good........work out the % of winners out of the number of birds bred each season and its obvious, most are no good, in fact I would say most fanciers can count on one hand the number of exceptional pigeons they have owned.

I think what makes a good pigeon has to be how well it raced or how well it bred, its all we can go on....

blueskylofts
Youngbird





Posts

: 1703


Join date

: 2016-02-28


Age

: 63


Location

: Glos - South West England



Subject: Re: What is a good pigeon? Tue Jun 06, 2017 2:14 pm

---

David wrote:

I agree with hal, most pigeons are no good........work out the % of winners out of the number of birds bred each season and its obvious, most are no good, in fact I would say most fanciers can count on one hand the number of exceptional pigeons they have owned.

I think what makes a good pigeon has to be how well it raced or how well it bred, its all we can go on....

Exactly David - well said.

Phil

peel bros
Oldbird





Posts

: 9727


Join date

: 2009-03-27


Age

: 53


Location

: south shields



Subject: Re: What is a good pigeon? Tue Jun 06, 2017 7:34 pm

---

A bird that tries every week no matter what the obstacles, wind ect ect but also win races

VanReet Man123
Youngbird





Posts

: 1024


Join date

: 2011-03-04


Age

: 44


Location

: Great Harwood



Subject: Re: What is a good pigeon? Tue Jun 06, 2017 7:53 pm

---

A leader not a follower there the best birds.

Knackered
Oldbird





Posts

: 7267


Join date

: 2013-03-11



Subject: Re: What is a good pigeon? Wed Jun 07, 2017 8:51 am

---

VanReet Man123 wrote:

A leader not a follower there the best birds.

Simple, but true. But

for the average pigeon flyer etc they tend to belong to other flyers on the whole I suspect sadly & as such they must start racing bird against bird in their own loft to weed them out & just hope one day they strick gold by playing the game of elimination by the basket come race day.

*****

Don Webb
Oldbird





Posts

: 14225


Join date

: 2009-03-27


Age

: 45


Location

: Tipton



Subject: Re: What is a good pigeon? Wed Jun 07, 2017 11:55 pm

---

blueskylofts wrote:

Your posting makes interesting reading Hal, and your question is extremely valid.  I suppose, at the end of the day, one has to try all one's pigeons in the race basket and breed from them over several years to get any real idea of what the bird is like. I have heard stories of fanciers having pigeons that couldn't find their way out of a paper bag, or even do 1000 yards a minute, but have bred them some really super pigeons.

Now I don't know if this is true because I have never experienced it myself, nor have I ever met anybody with these claims, but what does not seem logical to me is, if a pigeon is rubbish at racing, how does it ever get kept to breed from?

Logically, only a fool would breed from birds he thought were rubbish but - hey- what do I know!

Phil

Phil lets put you right about having pigeons that are rubbish at flying but breed winners

In 1987 I brought a youngster of stuitabault strain dark / black hen she was a complete waste of space at training and even worse at racing at the end of the season I had even pairs and paired her to an old cock breed 2 rounds and raced the youngster

Come racing the 4 youngsters went into the first race first 4 pigeons was them 4 youngsters at the end of the season them youngsters won 14 cards between them

That hen was paired to a different cock the next year same again 4 youngsters 2 prize winners

Now I never had top quality pigeons to pair with her but I can tell you I had over 60 prize winners with her blood running through them, she was a fantastic hen

One of her son's won in one weekend

1st Club Dorcester 600+ birds, 13th Fed 6,000+, 1st Ring Special £300+ pounds

Following Week

1st Club Cherbourg 200+ birds, 7th Fed 4.000+, 1st Fed Championship and 1st Y/B Loft knockout £600+ pounds

One Daughter

15 channel races and never nighted out always on the day won 12 prizes her best position was

1st Club Saintes 480 miles, 5th Fed 3,000 birds

The best son from her won 12 firsts at sprint racing best fed position was 4th

we had other sons with 5,6,8 firsts and loads of other prizes

Daughters were good channels pigeons they never let us down always in the prizes the best was sent 6 daughters to Nantes 366 miles North East wind at 12 hours put 4 on the clock within 20 minutes for 1,2 4,6 club not sure of fed positions

It was the same with Grand children, great grand children, great great grand children ect all winners

The old hen as she was named later breed prizes winners every year and she was even a prize winner in the show pen, she won in the eyesign show at the RP old comrades show

And that was from a pigeon that from a 20 mile training toss would take most of the day

From a 70 mile race would take all day to come

From 100 miles she would night out and come back late in the afternoon and at the end of the season she was the first in the list to be removed but we needed a hen and she was the last hen left

What a pigeon how lucky was I not to have removed her from the loft

halcanada
Youngbird





Posts

: 2956


Join date

: 2014-03-11


Age

: 78


Location

: Southern Ontario. Canada.



Subject: Re: What is a good pigeon? Thu Jun 08, 2017 12:24 am

---

Yes Don. Have had a cock did pretty much the same. BB hen also. Cock a Stichallbout hen a Van Loon. If one has the room any pigeon one takes a liking to is usually kept. I have been guilty of that most of my flying years. Nowadays I need to cut down. Apart from one Venus (Ganus )cock all my birds I keep as breeders, 12 pairs, have raced and won. Some will be replaced this year with racers. Oops! Not quite true! One stray hen (Red fox Jansen) and one stray cock BBar will be kept. Mated together. Why?  Curious!

Knackered
Oldbird





Posts

: 7267


Join date

: 2013-03-11



Subject: Re: What is a good pigeon? Thu Jun 08, 2017 4:28 am

---

Don Webb wrote:

blueskylofts wrote:

Your posting makes interesting reading Hal, and your question is extremely valid.  I suppose, at the end of the day, one has to try all one's pigeons in the race basket and breed from them over several years to get any real idea of what the bird is like. I have heard stories of fanciers having pigeons that couldn't find their way out of a paper bag, or even do 1000 yards a minute, but have bred them some really super pigeons.

Now I don't know if this is true because I have never experienced it myself, nor have I ever met anybody with these claims, but what does not seem logical to me is, if a pigeon is rubbish at racing, how does it ever get kept to breed from?

Logically, only a fool would breed from birds he thought were rubbish but - hey- what do I know!

Phil


Phil lets put you right about having pigeons that are rubbish at flying but breed winners

In 1987 I brought a youngster of stuitabault strain dark / black hen she was a complete waste of space at training and even worse at racing at the end of the season I had even pairs and paired her to an old cock breed 2 rounds and raced the youngster

Come racing the 4 youngsters went into the first race first 4 pigeons was them 4 youngsters at the end of the season them youngsters won 14 cards between them

That hen was paired to a different cock the next year same again 4 youngsters 2 prize winners

Now I never had top quality pigeons to pair with her but I can tell you I had over 60 prize winners with her blood running through them, she was a fantastic hen

One of her son's won in one weekend
1st Club Dorcester 600+ birds, 13th Fed 6,000+, 1st Ring Special £300+ pounds

Following Week
1st Club Cherbourg 200+ birds, 7th Fed 4.000+, 1st Fed Championship and 1st Y/B Loft knockout £600+ pounds

One Daughter
15 channel races and never nighted out always on the day won 12 prizes her best position was
1st Club Saintes 480 miles, 5th Fed 3,000 birds

The best son from her won 12 firsts at sprint racing best fed position was 4th

we had other sons with 5,6,8 firsts and loads of other prizes

Daughters were good channels pigeons they never let us down always in the prizes the best was sent 6 daughters to Nantes 366 miles North East wind  at 12 hours put 4 on the clock within 20 minutes for 1,2 4,6 club not sure of fed positions

It was the same with Grand children, great grand children, great great grand children ect all winners

The old hen as she was named later breed prizes winners every year and she was even a prize winner in the show pen, she won in the eyesign show at the RP old comrades show

And that was from a pigeon that from a 20 mile training toss would take most of the day
From a 70 mile race would take all day to come
From 100 miles she would night out and come back late in the afternoon and at the end of the season she was the first in the list to be removed but we needed a hen and she was the last hen left

What a pigeon how lucky was I not to have removed her from the loft

 

Interesting read Don

also interesting, that you purchased the bird for starters etc & so I suspect it would have had a half decent pedigree to boot there also.

*****

Don Webb
Oldbird





Posts

: 14225


Join date

: 2009-03-27


Age

: 45


Location

: Tipton



Subject: Re: What is a good pigeon? Fri Jun 09, 2017 12:20 am

---

No Kanacked she came with no pedigree

The reason why my dad brought this hen was because there was a sale arranged for a family who had a house fire and lost everything, the sale was to raise money to help the family get back on there feet

And yes they also raced pigeons

But the person we brought the hen of was a good flyer who was getting on in age and would always ask my dad if I could go and live with his wife and me as he loved my enthusiasm for pigeons

So when I saw that he had offered a youngster from the pick of his team I pestered my dad to buy it which he did for the grand sum of £5 pounds sterling and it was the best money we ever spent

My dad went over to pick the fanciers loft to see his entire young bird team and was left to pick out a youngster of his own choice

And that's how we got The Old Hen

Don Webb
Oldbird





Posts

: 14225


Join date

: 2009-03-27


Age

: 45


Location

: Tipton



Subject: Re: What is a good pigeon? Fri Jun 09, 2017 12:21 am

---

halcanada wrote:

Yes Don. Have had a cock did pretty much the same. BB hen also. Cock a Stichallbout hen a Van Loon. If one has the room any pigeon one takes a liking to is usually kept. I have been guilty of that most of my flying years. Nowadays I need to cut down. Apart from one Venus (Ganus )cock all my birds I keep as breeders, 12 pairs, have raced and won. Some will be replaced this year with racers. Oops! Not quite true! One stray hen (Red fox Jansen) and one stray cock BBar will be kept. Mated together. Why?  Curious!

All the best Hal hope all works out

Knackered
Oldbird





Posts

: 7267


Join date

: 2013-03-11



Subject: Re: What is a good pigeon? Fri Jun 09, 2017 8:41 am

---

Don Webb wrote:

No Kanacked she came with no pedigree

The reason why my dad brought this hen was because there was a sale arranged for a family who had a house fire and lost everything, the sale was to raise money to help the family get back on there feet

And yes they also raced pigeons

But the person we brought the hen of was a good flyer who was getting on in age and would always ask my dad if I could go and live with his wife and me as he loved my enthusiasm for pigeons

So when I saw that he had offered a youngster from the pick of his team I pestered my dad to buy it which he did for the grand sum of £5 pounds sterling and it was the best money we ever spent

My dad went over to pick the fanciers loft to see his entire young bird team and was left to pick out a youngster of his own choice

And that's how we got The Old Hen

OK

maybe there is some hope for the battlers Don, buying the cheapy type birds etc.  

oldstrain
Oldbird





Posts

: 11206


Join date

: 2011-01-03



Subject: Re: What is a good pigeon? Fri Jun 09, 2017 11:28 am

---

Don Webb wrote:

blueskylofts wrote:

Your posting makes interesting reading Hal, and your question is extremely valid.  I suppose, at the end of the day, one has to try all one's pigeons in the race basket and breed from them over several years to get any real idea of what the bird is like. I have heard stories of fanciers having pigeons that couldn't find their way out of a paper bag, or even do 1000 yards a minute, but have bred them some really super pigeons.

Now I don't know if this is true because I have never experienced it myself, nor have I ever met anybody with these claims, but what does not seem logical to me is, if a pigeon is rubbish at racing, how does it ever get kept to breed from?

Logically, only a fool would breed from birds he thought were rubbish but - hey- what do I know!

Phil


Phil lets put you right about having pigeons that are rubbish at flying but breed winners

In 1987 I brought a youngster of stuitabault strain dark / black hen she was a complete waste of space at training and even worse at racing at the end of the season I had even pairs and paired her to an old cock breed 2 rounds and raced the youngster

Come racing the 4 youngsters went into the first race first 4 pigeons was them 4 youngsters at the end of the season them youngsters won 14 cards between them

That hen was paired to a different cock the next year same again 4 youngsters 2 prize winners

Now I never had top quality pigeons to pair with her but I can tell you I had over 60 prize winners with her blood running through them, she was a fantastic hen

One of her son's won in one weekend
1st Club Dorcester 600+ birds, 13th Fed 6,000+, 1st Ring Special £300+ pounds

Following Week
1st Club Cherbourg 200+ birds, 7th Fed 4.000+, 1st Fed Championship and 1st Y/B Loft knockout £600+ pounds

One Daughter
15 channel races and never nighted out always on the day won 12 prizes her best position was
1st Club Saintes 480 miles, 5th Fed 3,000 birds

The best son from her won 12 firsts at sprint racing best fed position was 4th

we had other sons with 5,6,8 firsts and loads of other prizes

Daughters were good channels pigeons they never let us down always in the prizes the best was sent 6 daughters to Nantes 366 miles North East wind  at 12 hours put 4 on the clock within 20 minutes for 1,2 4,6 club not sure of fed positions

It was the same with Grand children, great grand children, great great grand children ect all winners

The old hen as she was named later breed prizes winners every year and she was even a prize winner in the show pen, she won in the eyesign show at the RP old comrades show

And that was from a pigeon that from a 20 mile training toss would take most of the day
From a 70 mile race would take all day to come
From 100 miles she would night out and come back late in the afternoon and at the end of the season she was the first in the list to be removed but we needed a hen and she was the last hen left

What a pigeon how lucky was I not to have removed her from the loft

 

good read that don

Sponsored content






Subject: Re: What is a good pigeon?

---

| | |
| --- | --- |
| What is a good pigeon? | |