Hello,
Before I start this, I should mention that I know very little about pigeons!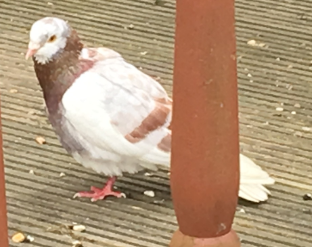 Essentially, this pigeon landed in our garden about a month ago and has not left - it sits on the decking for a large part of each day, goes for a few flights around the village then comes back. We have checked it for a ring and wing markings and cannot see anything to indicate it belongs to anyone. It did not appear injured or distressed in any way so we didn't put any food out at first as I didn't want to 'steal' anyone's pigeon but after it had been here a few days we started feeding it as we were worried it wasn't eating. My partner has been feeding it wild bird seed and Budgie food and we have put out some water to drink and a little tub for it to bathe in. It has been using these regularly and is confident enough to peck seed from her hand and has started making advances on collar dove that comes to the bird table every day.
I have absolutely no problem with it living in the garden but I am worried that it seems to sleep in the gutter at night time, even during thunderstorms. I have built it a little nesting box to sleep in as I am worried that it is very exposed and also easy prey for a sparrowhawk that I know lives in the area. However, I don't know how to encourage it to move there, if it would even want to? I also have an almost empty shed at the bottom of the garden that I don't mind it sleeping in but again have the same problem.
Any advice about how to look after this little fella, or even just what type of pigeon he is would be very gratefully received.
Thank you
Jimmy