Countrywide Corns
Forum Syndicate 2019
Pigeon World Forum Syndicate Bird takes 44th Place, in the 2019 RPRA One Loft Final.The Bird is Frans Zwol Bloodline, Bred and supplied by Darren Palmer (Oldstrain)
Forum Syndicate 2019
Pigeon World Forum Syndicate also takes 100th Place, in the 2019 RPRA One Loft Final. The Bird is Frans Zwol Bloodline, Bred and supplied by Darren Palmer (Oldstrain)
Who is online?
In total there are 19 users online :: 0 Registered, 0 Hidden and 19 Guests :: 2 Bots

None

Most users ever online was 182 on Thu Jul 04, 2019 1:09 am

Forum Syndicate 2017
Pigeon World Syndicate Bird takes 81st Place in the 2017 Final Race, The Bird is Dia Evans Bloodlines and was Bred and supplied by Tumley Lofts Stud.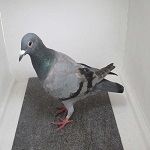 R.P.R.A Certificate.
Pigeon World Forum Syndicate take 81st Place in the 2017 R.P.R.A. Final, with a Pigeon Bred and Supplied by Tumley Lofts Stud.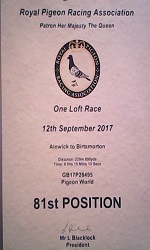 Top posting users this week
Statistics
We have 1213 registered users
The newest registered user is Mart

Our users have posted a total of 187000 messages in 12289 subjects

Oldstrain/Darren`s Winner of winners. 2012.
From Fed Topper to Master Chef
The N.E.H.U race from Melton Mowbray 21/4/2012 was won by Peel bros of South Shields, they took 1st club 1st fed, also taking 2nd and 4th club and 15 of the 25 birds clocked in the club......well done Peel brothers.
| | |
| --- | --- |
| A poor pauper eh! | |

Author
Message
Daz
Youngbird





Posts

: 2300


Join date

: 2018-07-15


Age

: 72


Location

: Northants



Subject: A poor pauper eh! Mon Jul 22, 2019 2:34 pm

---

"Queen Elizabeth II the largest landowner on Earth."
Queen Elizabeth II, head of state of the United Kingdom and of 31 other states and territories, is the legal owner of about 6,600 million acres of land, one sixth of the earth's non ocean surface.
She is the only person on earth who owns whole countries, and who owns countries that are not her own domestic territory. This land ownership is separate from her role as head of state and is different from other monarchies where no such claim is made – Norway, Belgium, Denmark etc.
The value of her land holding. £17,600,000,000,000 (approx).
This makes her the richest individual on earth. However, there is no way easily to value her real estate. There is no current market in the land of entire countries. At a rough estimate of $5,000 an acre, and based on the sale of Alaska to the USA by the Tsar, and of Louisiana to the USA by France, the Queen's land holding is worth a notional $33,000,000,000,000 (Thirty three trillion dollars or about £17,600,000,000,000). Her holding is based on the laws of the countries she owns and her land title is valid in all the countries she owns. Her main holdings are Canada, the 2nd largest country on earth, with 2,467 million acres, Australia, the 7th largest country on earth with 1,900 million acres, the Papua New Guinea with114 million acres, New Zealand with 66 million acres and the UK with 60 million acres.
She is the world's largest landowner by a significant margin. The next largest landowner is the Russian state, with an overall ownership of 4,219 million acres, and a direct ownership comparable with the Queen's land holding of 2,447 million acres. The 3rd largest landowner is the Chinese state, which claims all of Chinese land, about 2,365 million acres. The 4th largest landowner on earth is the Federal Government of the United States, which owns about one third of the land of the USA, 760 million acres. The fifth largest landowner on earth is the King of Saudi Arabia with 553 million acres
Largest five personal landowners on Earh
Queen Elizabeth II
6,600 million acres
King Abdullah of Saudi Arabia
553 million acres
King Bhumibol of Thailand
126 million acres
King Mohammed IV of Morocco
113 million acres
Sultan Quaboos of Oman
76 million acres

David
Oldbird





Posts

: 34837


Join date

: 2009-03-18


Location

: Leeds



Subject: Re: A poor pauper eh! Mon Jul 22, 2019 2:43 pm

---

she owns jersey too daz .........

the whole family are parasites living off the tax payer, and having their properties refurbished at a cost of millions , they pay for nothing .......

Daz
Youngbird





Posts

: 2300


Join date

: 2018-07-15


Age

: 72


Location

: Northants



Subject: Re: A poor pauper eh! Mon Jul 22, 2019 4:12 pm

---

especially the hangers on. Princess Michael of Kent etc.

Mind Charles pays over £17 million in taxes. Well, well above that now..... Which is good

Or makes one think just how much he earns after being given so m;) uch.

MISTY
Youngbird





Posts

: 3177


Join date

: 2018-01-28


Age

: 85


Location

: SCARBOROUGH



Subject: Re: A poor pauper eh! Mon Jul 22, 2019 5:52 pm

---

Would not swap my life, nor my back and front garden, both now a jungle, for all the Royals properties and money, along with the life they have to lead.

All the properties are run in a proper manner and involve employment for many people.


Just who do you think would end up with all the assets they presently run if they were to be deprived of them?.


The Royals have helped to keep our country more stable and democratic for many years as opposed to any other country, and it is elected idiots who are presently in the process of ruining it and not the Royals, and elected idiots or a dictator is the alternative.


Regards.












Knackered
Oldbird





Posts

: 10366


Join date

: 2013-03-11



Subject: Re: A poor pauper eh! Tue Jul 23, 2019 11:39 am

---

Daz wrote:

especially the hangers on. Princess Michael of Kent etc.

Mind Charles pays over £17 million in taxes. Well, well above that now..... Which is good Or makes one think just how much he earns after being given so m;) uch.

I'm happy Daz

to take etc

the 1,900 million acres she has on my patch

from her, if she is interested as such

.

Daz
Youngbird





Posts

: 2300


Join date

: 2018-07-15


Age

: 72


Location

: Northants



Subject: Re: A poor pauper eh! Tue Jul 23, 2019 12:49 pm

---

Careful Knackered... your neighbours will beat you to them.

A wealthy friend, a good businessman with fingers in many pies, used to buy an acre at 5/- v(25p) and bought them weekly spending a £1000 a time.
Feel - if I remember right a little back from the sea.
Said he, and his children won't benefit at al... maybe great grandchildren will start to … BUT somewhere down the line some somewhere will start raking in a fortune.

MISTY
Youngbird





Posts

: 3177


Join date

: 2018-01-28


Age

: 85


Location

: SCARBOROUGH



Subject: Re: A poor pauper eh! Tue Jul 23, 2019 6:27 pm

---

There are far more happy humans with just a reasonable income than the drug and evil ridden majority of those with mass fortunes, just read the news every day and see what money can do.


We know there are those who should have a better life and everything should be done to assist the genuine ones but money does not buy happiness in many instances.

Just as in our sport the moaners do nothing but moan.



Regards.



Knackered
Oldbird





Posts

: 10366


Join date

: 2013-03-11



Subject: Re: A poor pauper eh! Wed Jul 24, 2019 10:36 am

---

Daz wrote:

Careful Knackered... your neighbours will beat you to them.

A wealthy friend, a good businessman with fingers in many pies, used to buy an acre at 5/- v(25p)  and bought them weekly spending a £1000 a time.
Feel - if I remember right a little back from the sea.
Said he, and his children won't benefit at al... maybe great grandchildren will start to … BUT somewhere down the line some somewhere  will start raking in a fortune.

Neighbours

don't quite know about that one Daz

Do know for a fact thou

the black fellow mob down here

want it all back as such

.

Sponsored content






Subject: Re: A poor pauper eh!

---

| | |
| --- | --- |
| A poor pauper eh! | |