Countrywide Corns
Forum Syndicate 2019
Pigeon World Forum Syndicate Bird takes 44th Place, in the 2019 RPRA One Loft Final.The Bird is Frans Zwol Bloodline, Bred and supplied by Darren Palmer (Oldstrain)
Forum Syndicate 2019
Pigeon World Forum Syndicate also takes 100th Place, in the 2019 RPRA One Loft Final. The Bird is Frans Zwol Bloodline, Bred and supplied by Darren Palmer (Oldstrain)
Who is online?
In total there are 16 users online :: 0 Registered, 0 Hidden and 16 Guests :: 2 Bots

None

Most users ever online was 833 on Wed Nov 10, 2021 12:30 pm

Forum Syndicate 2017
Pigeon World Syndicate Bird takes 81st Place in the 2017 Final Race, The Bird is Dia Evans Bloodlines and was Bred and supplied by Tumley Lofts Stud.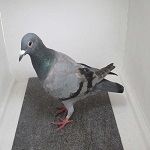 R.P.R.A Certificate.
Pigeon World Forum Syndicate take 81st Place in the 2017 R.P.R.A. Final, with a Pigeon Bred and Supplied by Tumley Lofts Stud.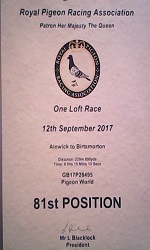 Top posting users this week
Statistics
We have 1283 registered users
The newest registered user is hughiep

Our users have posted a total of 219853 messages in 13874 subjects

Oldstrain/Darren`s Winner of winners. 2012.
From Fed Topper to Master Chef
The N.E.H.U race from Melton Mowbray 21/4/2012 was won by Peel bros of South Shields, they took 1st club 1st fed, also taking 2nd and 4th club and 15 of the 25 birds clocked in the club......well done Peel brothers.
| | |
| --- | --- |
| Farewell Old Friend | |

Author
Message
David
Oldbird






Posts

: 42360


Join date

: 2009-03-18


Location

: Leeds



Subject: Farewell Old Friend Fri Nov 17, 2023 11:03 am

---

went into the loft earlier and found an old friend had died, he was an 05 bird GB05 J 49234, he was the last of the original lefebre dhaenens i bought when i restarted in jan 2008, so he has been with me all this time....... he was nigel cowood / jimmy richards lines and had raced in the nationals, up until today he had never had a days illness since i got him, i have one daughter from him and one grandson off him, i`ll be burying him in the garden shortly .........

oldstrain
Oldbird






Posts

: 16123


Join date

: 2011-01-03


Location

: the magic roundabout



Subject: Re: Farewell Old Friend Fri Nov 17, 2023 11:27 am

---

good age and a good life no doubt rip old fella,heartbreaking when these things happen

George & Morgan
Oldbird






Posts

: 7067


Join date

: 2011-02-14


Age

: 78


Location

: west Oxfordshire



Subject: Re: Farewell Old Friend Fri Nov 17, 2023 11:31 am

---

sorry to hear that David 2 of my old birds that died are in the garden one the red ch cock could not put him in the bin

barnie
Youngbird






Posts

: 2841


Join date

: 2012-07-25



Subject: Re: Farewell Old Friend Fri Nov 17, 2023 12:35 pm

---

good age in a good home for certain. Ive said before, not many pigeons get to die of old age,

MISTY
Oldbird






Posts

: 8754


Join date

: 2018-01-28


Age

: 88


Location

: SCARBOROUGH



Subject: Re: Farewell Old Friend Fri Nov 17, 2023 1:51 pm

---

Agree with barnie, had a long and no doubt happy life, better than 99% of pigeons.

Wish a couple of my old favourites would turn up for just a look in.

Life as we know it is full of ups and downs and we have to bear both.

Regards.

Knackered
Oldbird






Posts

: 14146


Join date

: 2013-03-11



Subject: Re: Farewell Old Friend Fri Nov 17, 2023 11:16 pm

---

barnie wrote:

good age in a good home for certain.   Ive said before, not many pigeons get to die of old age,

Sadly true I suspect

sadly. That being said thou Colin

I somehow down here

over many years now grow wonderful lemons etc

.

MISTY
Oldbird






Posts

: 8754


Join date

: 2018-01-28


Age

: 88


Location

: SCARBOROUGH



Subject: Re: Farewell Old Friend Sat Nov 18, 2023 11:59 am

---

Knackered wrote:

barnie wrote:

good age in a good home for certain.   Ive said before, not many pigeons get to die of old age,

Sadly true I suspect sadly. That being said thou Colin I somehow down here over many years now grow wonderful lemons etc    .

We humans are strange creatures.

Never gave a thought to killing rabbits caught with ferret and nets, the more the merrier, when I had show rabbits was very upset to lose one, gave those no good for showing to the pet shop.

The same applies to many other animals.

Nothing as strange and complicated as humans.

Regards,.

Sponsored content







Subject: Re: Farewell Old Friend

---

| | |
| --- | --- |
| Farewell Old Friend | |