Forum Syndicate
Pigeon World Syndicate Bird takes 81st Place in the 2017 Final Race, The Bird is Dia Evans Bloodlines and was Bred and supplied by Tumley Lofts Stud.
R.P.R.A Certificate.
Pigeon World Forum Syndicate take 81st Place in the 2017 R.P.R.A. Final, with a Pigeon Bred and Supplied by Tumley Lofts Stud.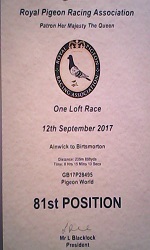 Who is online?
In total there are
50
users online :: 9 Registered, 0 Hidden and 41 Guests :: 2 Bots
blueskylofts
,
fieldwalker
,
Lofty
,
markevans
,
mufc rick
,
oldstrain
,
Skywalker
,
stormqueen
,
Tipplerman1
Most users ever online was
144
on Thu Apr 05, 2012 11:37 am
Bucktons 2017 Calendar
Pigeon World Forum, Fancier of the Year Trophy.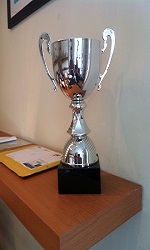 Top posting users this week
Statistics
We have 1106 registered users
The newest registered user is Cuthy

Our users have posted a total of 157975 messages in 10509 subjects

Oldstrain/Darren`s Winner of winners. 2012.
From Fed Topper to Master Chef
The N.E.H.U race from Melton Mowbray 21/4/2012 was won by Peel bros of South Shields, they took 1st club 1st fed, also taking 2nd and 4th club and 15 of the 25 birds clocked in the club......well done Peel brothers.
John Gibbs young pied/grizzle winner.
| | |
| --- | --- |
| Any Results This Week 8/7/17...? | |

Author
Message
David
Oldbird





Posts

: 30102


Join date

: 2009-03-18


Location

: Leeds



Subject: Any Results This Week 8/7/17...? Mon Jul 10, 2017 12:33 pm

---

any members raced this weekend, or got any results...?

Lofty
Youngbird





Posts

: 1569


Join date

: 2015-10-07


Location

: Swansea



Subject: Re: Any Results This Week 8/7/17...? Mon Jul 10, 2017 5:01 pm

---

I got 1st club,1st fed, 1st section, 1st open, 1st combine,1st amalgamation, 1st national,1st international from Rome, 1500 miles only bird on the day and only 6 hours on the wing

Lofty
Youngbird





Posts

: 1569


Join date

: 2015-10-07


Location

: Swansea



Subject: Re: Any Results This Week 8/7/17...? Mon Jul 10, 2017 5:02 pm

---

Lofty wrote:

I got 1st club,1st fed, 1st section, 1st open, 1st combine,1st amalgamation, 1st national,1st international from Rome, 1500 miles only bird on the day and only 6 hours on the wing

THEN I WOKE UP

Boosey
Youngbird





Posts

: 1507


Join date

: 2013-08-09


Age

: 46


Location

: Basildon, Essex



Subject: Re: Any Results This Week 8/7/17...? Mon Jul 10, 2017 8:23 pm

---

Knackered
Oldbird





Posts

: 5969


Join date

: 2013-03-11



Subject: Re: Any Results This Week 8/7/17...? Tue Jul 11, 2017 6:07 am

---

Lofty wrote:

I got 1st club,1st fed, 1st section, 1st open, 1st combine,1st amalgamation, 1st national,1st international from Rome, 1500 miles only bird on the day and only 6 hours on the wing

That's what I like etc  

A dreamer type, of the highest order possible

.

*****

Sponsored content






Subject: Re: Any Results This Week 8/7/17...?

---

| | |
| --- | --- |
| Any Results This Week 8/7/17...? | |