Countrywide Corns
Forum Syndicate 2019
Pigeon World Forum Syndicate Bird takes 44th Place, in the 2019 RPRA One Loft Final.The Bird is Frans Zwol Bloodline, Bred and supplied by Darren Palmer (Oldstrain)
Forum Syndicate 2019
Pigeon World Forum Syndicate also takes 100th Place, in the 2019 RPRA One Loft Final. The Bird is Frans Zwol Bloodline, Bred and supplied by Darren Palmer (Oldstrain)
Who is online?
In total there are 21 users online :: 0 Registered, 0 Hidden and 21 Guests :: 2 Bots

None

Most users ever online was 833 on Wed Nov 10, 2021 12:30 pm

Forum Syndicate 2017
Pigeon World Syndicate Bird takes 81st Place in the 2017 Final Race, The Bird is Dia Evans Bloodlines and was Bred and supplied by Tumley Lofts Stud.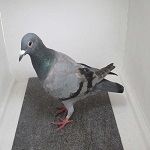 R.P.R.A Certificate.
Pigeon World Forum Syndicate take 81st Place in the 2017 R.P.R.A. Final, with a Pigeon Bred and Supplied by Tumley Lofts Stud.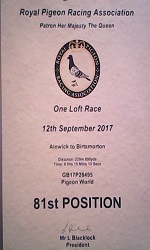 Top posting users this week
Statistics
We have 1284 registered users
The newest registered user is Chloe818

Our users have posted a total of 220188 messages in 13891 subjects

Oldstrain/Darren`s Winner of winners. 2012.
From Fed Topper to Master Chef
The N.E.H.U race from Melton Mowbray 21/4/2012 was won by Peel bros of South Shields, they took 1st club 1st fed, also taking 2nd and 4th club and 15 of the 25 birds clocked in the club......well done Peel brothers.
Topics
Replies
Author
Views
Last Posts

[ Go to page: 1, 2, ... , 5, 6]

149

friendsloft

10268

Sat Feb 20, 2010 5:59 pm
steve1952

3

Boosey

1990

Fri Aug 29, 2014 11:14 pm
Knackered

4

autoball2

2224

Wed Jun 13, 2012 11:48 am
Gaz b

[ Go to page: 1, 2]

25

peel bros

2645

Wed Dec 01, 2010 8:17 am
IANYOUNG

[ Go to page: 1, 2]

34

IANYOUNG

3808

Sun Nov 21, 2010 4:50 pm
David

[ Go to page: 1, 2]

45

IANYOUNG

3114

Sat Apr 10, 2010 7:21 am
peel bros

[ Go to page: 1, 2]

29

friendsloft

2628

Fri Mar 19, 2010 5:32 pm
IANYOUNG

15

steve1952

1960

Sat Feb 27, 2010 5:13 pm
friendsloft

20

Lightning

1985

Thu Feb 25, 2010 7:55 am
peel bros

8

vader

1529

Tue Feb 23, 2010 8:55 pm
littlehen

[ Go to page: 1, 2]

40

friendsloft

3865

Sun Feb 21, 2010 8:46 pm
Don Webb

[ Go to page: 1, 2, ... , 5, 6]

139

David

8997

Mon Feb 15, 2010 1:56 pm
steve1952
Users browsing this forum: None

Moderator:
friendsloft
Permissions in this forum:
You cannot post new topics in this forum
You cannot reply to topics in this forum

New posts




New posts [ Popular ]




New posts [ Locked ]

No new posts




No new posts [ Popular ]




No new posts [ Locked ]

Announcement




Global announcement




Sticky